Have you wondered where are Norwich Merchants Alumni Are Now ???
Follow Below.......
If you Are An Alumnist And Would Like To Share Information With Us
Please Contact DAVE JULL
jullzy1717@gmail.com

Norwich Merchants Alumni.. Where Are They Now??
Name: Ryan Hladyniuk
Position: Defense
Jersey Number: 25
Hometown: Thunder Bay, Ontario, Canada
When you joined Norwich. What years you played: 2003-2007
Where you attended school while playing…what you studied…where.
B.Sc. Major in Medical Science, Major in Earth and Planetary Science at the University of Western Ontario.
Ph.D. Geology at the University of Western Ontario
Current age: 35
Present residence: Corpus Christi, Texas, USA
Occupation:
Research Scientist. Core Facilities Manager. The University of Texas at Austin, Marine Science Institute
Owner: Rhinobrand Consulting (www.rhinobrandconsulting.com)
Family?? Married..kids??
Married, 3 Kids
Hobbies when you are not working?
Travelling, Mechanics, Boating, Fishing, Sitting on the beach.
Best players you played against??
Cory Perry, Anthony Stewart, Paul Bissonnette, Tyler Kennedy, Rick Nash
(when on the Merchants: Mac Cook (Simcoe Storm), Nathan Dunbar (Simcoe Storm), Ryan Gartner (Simcoe Storm), Adam Vandepoele (Aylmer Spitfires)
Best player or players you played with??
Eric Staal, Mike Richards, Carter Hutton
(with the Merchants: Justin Brooks, Shaun Geerts, Chris Durham, Chad Barclay)

Biggest rival during your time with Merchants??
Simcoe Storm
Of your former teammates….
Who was the funniest??
Geoff Paton (shaved a donut (bald top, left the sides) for the playoffs on year!)
Hardest hitter or most feared??
Matt Bac (this kid was a machine built in Rugby Land)
Best skater??
Tyler Phillips (silky smooth on the back end and when he went end-to-end it was effortless)
Memorable goal??
Didn't score many.  I do remember I scored a sweet one against New Hamburg, I was below the offensive goal line and I roofed it over the goalies shoulder!  No celebration though, we were likely up 5 or 6.
Favorite Merchants memory??
Playing Grimsby Peach Kings after beating Simcoe in the West Championship.
Touring NorPack meats with the Hammer and crew!
Fans were amazing, a lot of great memories during after game beers (Crystal) and pizza (Godfathers).
Fish Fries, all of them!
Are you still involved in hockey and if so how??
Yes, coach young kids hockey here in sunny South Texas, when there is ice!
Any Merchants alumni who would like to share a profile we would love to hear from you. Please answer the following questions and forward to Dave Jull at jullzy1717@gmail.com.
Name - Geoff Paton
Position - Forward
Jersey Number - 11
Hometown - Woodstock Ontario
What years you played??
2005-2008
Attended Fanshawe College - 2 year Business Diploma
Began apprenticeship for sheet Metal and gas fitter
Current occupation:
Team lead for Commercial HVAC at CIMCO refrigeration
Current age
34
Present residence
Woodstock Ontario
Family...Married?? Kids??
Married to Shaughna and have 2 kids.  Brooke 9 and Cole 3 months and our dog Bo!
Hobbies when you are not working??
Hockey , fitness , spending time with Friends and Family
Best players you played against while with Merchants??
Brandon Schell - Navy Vets. Mac Cook - Simcoe Storm
Best players you played with while with Merchants??
Chad Barclay , Shaun Geerts , Sean McLeod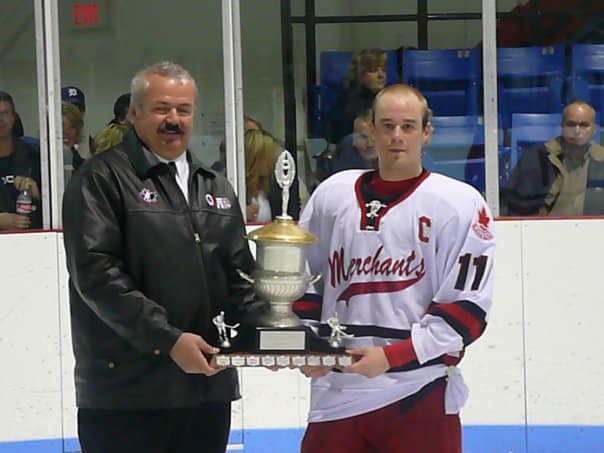 Best shot had to be Chris Durham
Biggest rival during your time with the Merchants??
Nathan Gavey , Rob Desutter , Nathan Dunbar ( a lot of years and many playoffs series against those guys ). Also Jamie Davis and Jason Geerts
Of your former teammates…
Who was the funniest??
Steve Boyd , Rhino Hyladniuk , Derek Mcdougall and Coach Dave Smith
Hardest hitter..most feared??
Chris Mclaren - lots of space when Mac was on the ice
Merchants teammate Josh Springle - this guy was fearless!!!
Best skater??
Chad Barclay - strong on his skates and sneaky fast
Memorable goal??
Game 6 overtime in Aylmer - 2 on 1 with Geerts to end the series
Favorite Merchants Memory??
Winning 3 Niagara Jr. C West championships , bus trips with the boys ( thanks for driving bussie ) pp unit with Joe Thornton , Chad Barclay , Chris Durham and Adrian Turner-  the fans at Nordel arena on a Friday night and countless team events - fish fries, meet the player and of course the Christmas parties with Bax's famous hot wings
Are you still involved in hockey and if so how??
Still play men's league in Plattsville and skate with buddies every week. Looking forward to coaching my little guy in the coming years
"I also want to add that Norwich was a first class organization to play for. Amazing executive and volunteers that spent countless hours making the organization such a good one to be a part of."

Name - Chad Barclay
Position - Center/Right wing
Jersey Number - 15
Hometown - Tillsonburg
What years you played??
2003-2004, 2004-2005, 2005-2006
2008-2009, 2009-2010
Education: Fanshawe College with a General Business Diploma
- Cambrian College in Sudbury, Power Engineering Technician
Age - 33
Current residence - Port Dover, Ontario
Occupation - Process Operator, Imperial Oil Ltd.
Family...Married?? Kids??
Married my wife Olivia in April of 2017. Had our daughter Blake in May 2018. Expecting this year in July.
Best players you played against while with Merchants???
Mac Cook, Adam Scott, Zane Neilly and Jordan Paton.
Best players you played with???
BJ Smelser, Aid Turner, Kris Krolouski, Nate Geerlinks and Sean McLeod.
Of your former teamates....
Who was the funniest??
Kris Krolouski and Shayne Ross
Most Feared???
Brett Green
Who did opponents hate to play against the most???
Derek McDougall
What team was your biggest rival and why??
We played Simcoe every year I played there in the playoffs. Definitely them!!!
Most memorable goal you scored???
Not my goal. But setting up Todd Kemp's game winner against Essex in Double Overtime. Packed arena could not have got louder!
Highlights of you Merchants career???
Beating Grimsby to finally win the Niagara Division Championship. And celebrating with the organization. The relationships I developed with friends I still have today.
Favorite Merchants Memory???
Couldn't pick one. I had an amazing experience the entire time I was there. The fans were always there. The organization had a knack for building teams of players with amazing character. It all starts with the executive. They set a standard that's easy to try and follow. First class experience I would suggest to anyone!!
Are you still involved in hockey and if so how??
Currently play in a men's league.
Derek McDougall
Forward
#14
Years played : 2008-2012
Age - 30
Hometown - Putnam, Ontario
Education - Was doing an Electrical Apprenticeship when playing in Norwich
Current residence  - Guelph, Ontario
Currently working at Skyjack as a Licensed Electrician
I'm currently engaged to my fiancé Sarah with two young boys named Morgan & Brodie
Best I played Against... Jordan Paton, Adam Vandenpole, forget the guys name from Grimsby haha (#8)
Best I played with... Nazem Kadri, Cody Lindsay, TJ Brodie, Chad Barclay & Curtis Logan
Funniest... Kris Krolouski, Steven Boyd, Shayne Ross & Chad Barclay
Most Feared... Brett Green & Aaron Wirths hits crossing our blue line haha
I think there was a time opponents hating playing in our Zone against Wirthy and Keuhl when they were D partners
I think this was something because Dave Smith & Tom Cunningham brain washed me but ?$&@/ I hated the Simcoe Storm haha
Most memorable goal was my last game with the Merchants... Game 7 versus Grimsby sending it to OT with about a minute left in the third
LOVED Friday night home games... fans were amazing, sometimes couldn't even hear the whistle haha
Favourite memories haha too many, Fish fry's, Bax's wings before Christmas, staying at the rink till the early morning after a few championships & losing the trophy in Kempers pool
Still play in a Sunday morning league with my dad, brothers and close buddies... hoping to help coach my two boys when they get into hockey.